Coronavirus outbreak has resulted in a stressful time for businesses, workplaces, corporates, and people in general. With most of the people locked up in their homes, nothing seems usual as before. But this doesn't mean that you should give up on your business. This is a crucial time for communication, support, and relevant advertising. It's more important than ever to keep your customers and communities informed. On a personal level, you can use custom signs and banners to inform your community about the prevention, precaution, and awareness methods. Whereas, at the business level, you may use custom COVID-19 signage in one of the below effective ways:

> To update your customers about your new offerings.
>To communicate that its safe to use your services.
> To keep them updated about your changed/regular working hours.
>To inform them about your shipping/delivering changes.

During this difficult time, your business might be going through a tough time too. Printed signage for coronavirus is the only way to cut-off on face-to-face communication yet be able to inform your customers. COVID-19 signage is a great medium for businesses and the best approachable way to ensure that your customers have answers to your business products/services related concerns. These coronavirus signs are not just a great informational tool for businesses, but they work equally well in educating, informing, and creating awareness around this pandemic.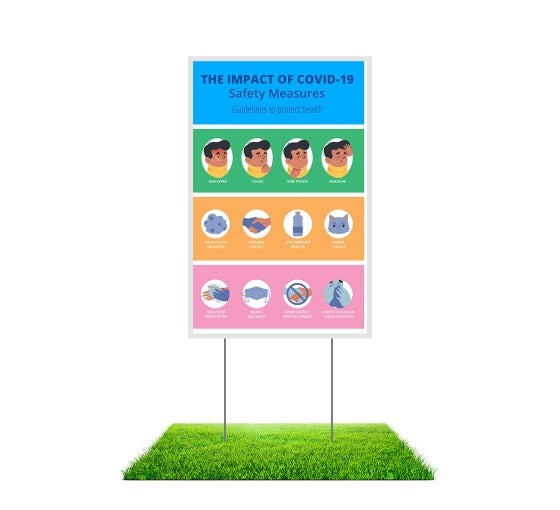 Understanding COVID-19 Signage a little better!

Coronavirus signage is more like a safety signage that boasts bold, vibrant, and high-quality printing on quality materials based on which sign or banner you choose. Our COVID-19 signs include stickers, posters, vinyl banners, yard signs, printed flyers, awareness compliance signs, signboards to a lot more. We further offer you pre-designed templates to help you get a signage solution quickly if you want something up quickly at your storefront, workplace, or business center. Also, you can design these custom printed COVID signs as per your needs in minutes. These are the best tools to use during social distancing as they don't involve any verbal communication and are effective enough to convey your message.

Here are a few quick ideas to help you design and create an informative sign for your business
Get your updated working hours, delivery changes, pick-up services, curbside pickup options (if available), temporary closure or anything else printed on these signs and reach out to everyone out there effortlessly.
Use these signs to spread general awareness about coronavirus.
Support social distancing and encourage your store customers to follow WHO guidelines by installing an advisory or precaution methods.
Bring your windows to use by installing a COVID-19 window sign or poster at your workspace, home, or business space.
You can use these safety signs to promote anything from a temporary business closure to state advisory or a quarantine notice. It's all up to you to creatively use printed signs and make them work for your business.

You can find all these signs and banners at BannerBuzz under the safety signs and banners listing. You can pick yours based on the usability, price, installation/finishing preferences, etc.
If you order your Coronavirus signage with us now, you will be able to save up to 30% and enjoy free shipping as well.

NOTE: We are following multiple prevention methods to keep our production/delivery unaffected.