Getting oneself or the business equipped with time-to-time requirements aid in making a great difference to the brand's success story. You need some of the most quintessential range of display banners, promotional tools, and products so that your brand never gets left behind in the race. Now, be it the requirement to advertise one's brand or products or the need comes to communicate with the potential audience during the time of crisis; it is vital to create your brand presence at all costs. Now, here comes Bannerbuzz in the picture to define your goals and meet the desired aspirations for current and prosperous events, marketing campaigns, indoor or outdoor events, emergencies, unexpected pandemics like Coronavirus and other scenarios.
Pre-printed roll up banners, banner stands, retractable banners for quick awareness anywhere, anytime
We have got everything for you – be it pre-designed or customized, every display tool would be delivered at the preferred location by getting them ready in the required size, shape, designs, and other vital specifications. You can explore and select out of a variety of pre-printed safety banners, COVID-19 awareness flags or signs, Stay Home Window Signs, and so much more is there to let you inform your visitors, employees, and everyone around us. Displaying safety street flags, safety advisory banners or precautionary vinyl banners on the sidewalks, outside the restaurant, shop, corporate office, inside and outside the farmlands, yards, and other locations will aid in minimizing the scope of spreading infections and thus the pandemic situation can be controlled effectively. All you need to do is refer to Bannerbuzz.co.uk, go through the products being listed online and select out of them whether you would like to get them customized or place an order for the display flags, mesh banners or PVC-free flex eco-friendly banners for various awareness campaigns and programs.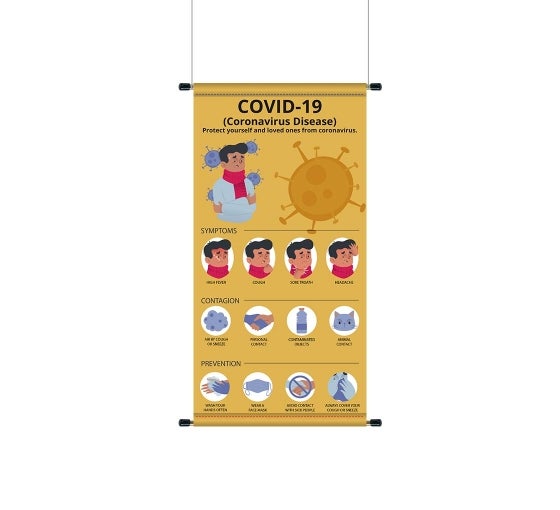 Safety signs, advisory signs available in custom sizes, shapes, and colors
Our online customization tool allows you further to perform certain customization procedures to achieve the display banners or flags in the desired size, weight, shape by selecting the needed length, width, height, thickness of both the hardware and the graphics sheet. Moreover, you are free to choose for lamination quality i.e., gloss or matte can be chosen along with the typeface, color calibration, and so much more. Though pre-printed window signs, roll up banner stands, retractable banners, and banner stands, and many more similar display tools have been made available to deliver you in the urgent times and serve your purpose of guiding people and spreading preventive measures all across the location. The awareness banners or promotional banners or advertising banners and decals have been made out of high-quality and durable materials and state-of-the-art printing techniques to deliver you the most class apart finish and final product. They are also highly performable to be used for outdoor shows or safety awareness programs and thus protect the graphics from getting fade due to bright sunrays or even UV rays. They stay protected against the harmful effects of UV rays and thus can be utilized for outdoor display for the longest time to come. You can also go for paper posters, custom vinyl posters, magnetic signs and other options full of cloth banners, polyester banners, teardrop flags that serve the best ways to speak loud about your brand's functioning for any social concern, product launch updates, product advertisement, and so much more is there to take the brand recognition level to enhanced heights. Contact us now to let us know he could we serve you better with our quintessential range of display products, promotional vinyl banners or safety signs, advisory signs, and so much more.